Quad muscle fever, knee pain, the cold bite of ice on skin. These are telltale signs that I'm celebrating another victory over my willpower. It also means that I'll have a hard time going up and down stairs again in the next couple of days.
Condura Skyway Runs always mark a milestone for me because they coincide with my running anniversary. Three years ago I completed my first mainstream 5K at Condura Run for the Dolphins (2010) and now I have completed yet another 21K and it was up in the Sky! I get pins and needles when I realize that I have gone so far, figuratively and literally. Today I finished with a new PR at 2:44:29 which is faster by more than 4 minutes over the last 21K at RUPM 2012.
The race kicked off in true Condura form with fireworks, leaving a celebratory air that smelled like New Year. And at 3:30 AM, it also felt like New Year.
My wife and I were both at Wave C. I'm pretty sure my wife enjoyed corralling with Raffy Tan (Biggest Loser) and Senator Pia Cayetano. Just look at that copy-paste smile on her face! :D
The run started at the entrance of the short tunnel in Alabang that leads to the Skyway ramp. Being a Southerner, it was just wonderful having the Start/Finish and the Village so close to home.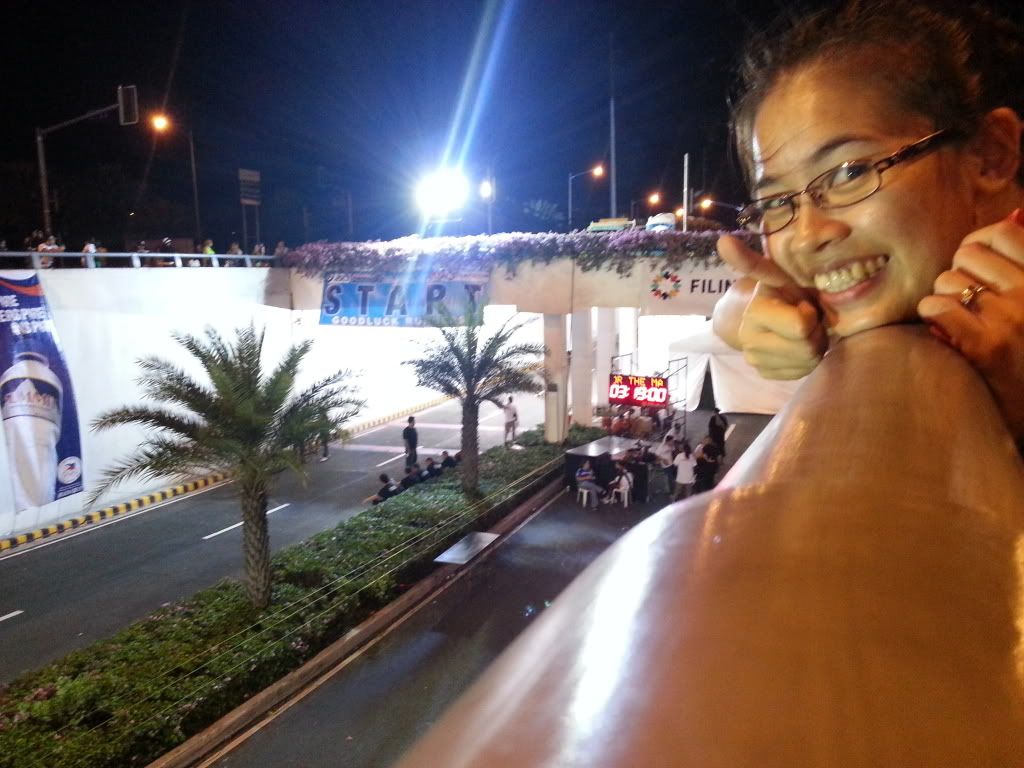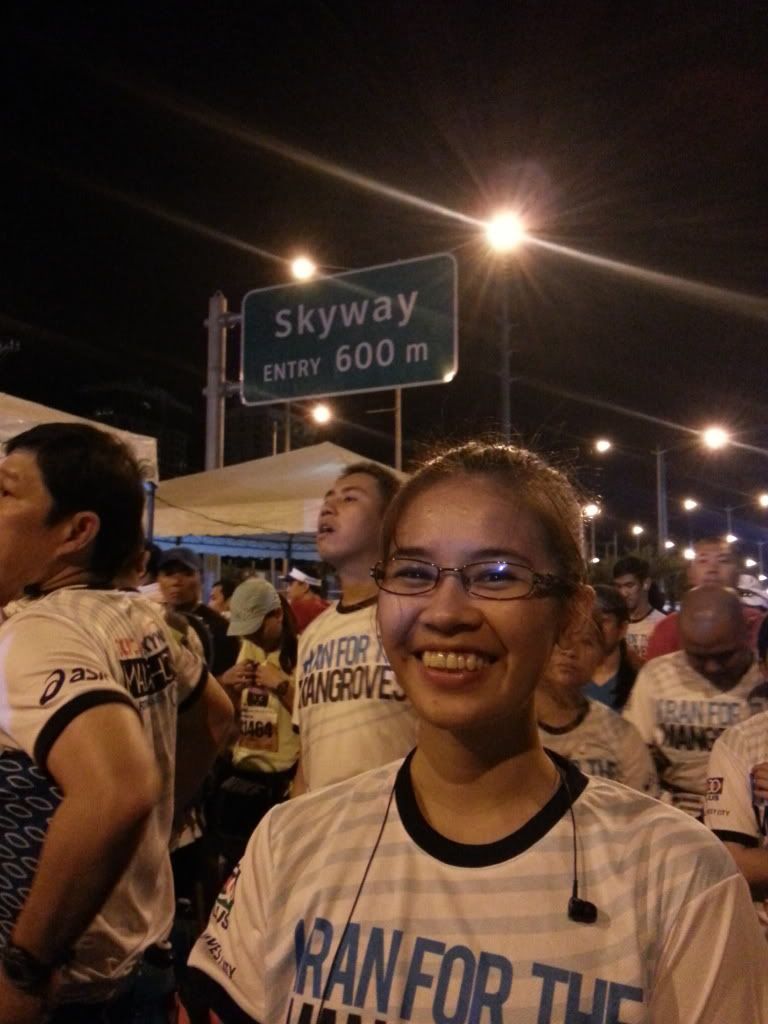 Obviously what sets the Condura Skyway Marathon apart is the unique experience of actually running on foot on the Skyway! Probably the only other time you can set foot on this elevated masterpiece is when your car unfortunately breaks down.
The organizers delivered on their promise of unparalleled racing experience. On the map, the route looks easy; you basically go straight, U-turn, go back. But, boy oh boy, it's one of those "you should have been there" experiences that I cannot give you vicarious thrills for. We definitely did not run parallel to the horizontal but on a series of seemingly unending slopes which all impossibly felt uphill! Even the last 100 meters or so felt so upwards and it wasn't on the Skyway anymore.
Something new I tried for this year's run was listening to music. I usually run just listening to my feet pounding the ground and to the grunts of other runners. After 3 years, I finally got curious how it felt like to run with ears closed to the world. Interestingly, at gun start, the first song shuffled for me was "Lonely Boy" which is definitely what I felt running with earphones. On the way up the Skyway, my player gave me "Gangnam Style" which, er, I don't know how it got on my playlist... (excuses). The last song I had was "Around the World" by Red Hot Chili Peppers.
Hydration was top of the line as expected. Un-hydration i.e. urination was also no problem because of the portalets all over the route. Runners almost didn't need to fall in line at all.
The finish line was totally far from the entrance of the Village. I'm sure it was only a few hundred meters but it felt like a kilometer to my worn out leg muscles. I think it was a strategy to prevent runners from clogging the finish line.
This year, I had another unique experience: I joined the game on stage! I was so thrilled to be back on the road that I didn't mind some air time. Not really known for having much reservations (i.e. kilalang makapal ang mukha), I easily spelled "Condura Skyway Marathon" using my butt and I won a buffet breakfast for two at the Sky Lounge at Vivere!
Here's my one of a kind view on stage with the emcees and another contestant.
I know my wife is thrilled because she's never been to the Sky Lounge; it was definitely worth all the extra muscle work for my glutes.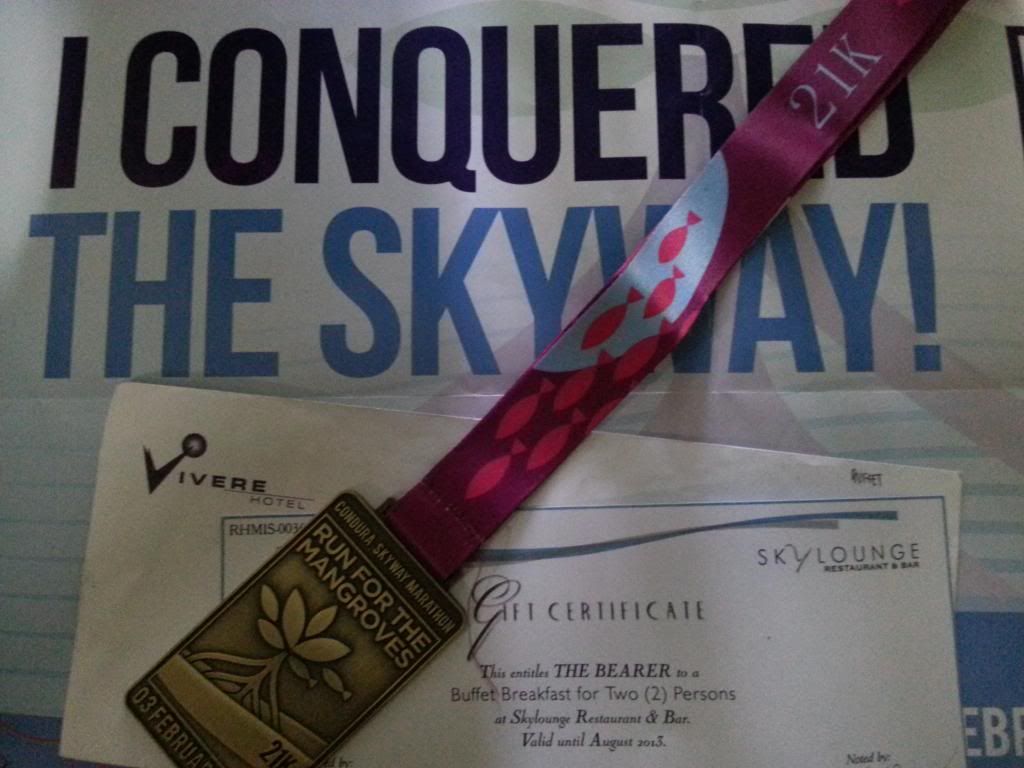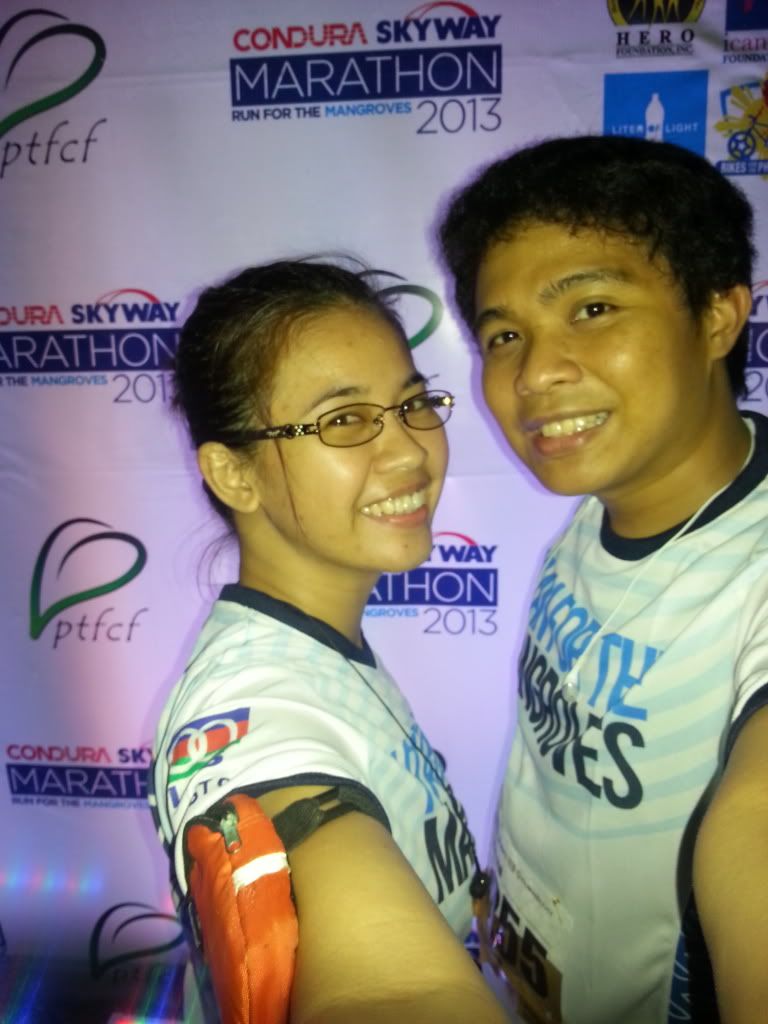 Now here comes the Superposition! It's been a while.