Yeah! Praise God for another PR! Well, it's my first 15K and the longest distance I have run so far. [So near yet so far!]. Unofficial time is 1:39:47 [or a pace of ~6:40]. My goal was 1:45 so it's sub-target! Yey!
I'm also very happy for my girlfriend who is a very big fan, nay, lover of Piolo Pascual. [She always sighs when she sees his poster/billboard and once she even wanted to sleep next to the big Piolo close-up in my copy of Men's Health]. Although I did miss the Photovendo, the timing chip, and that interesting facebook app of the Globe Run, may it be written down in stone that I would never trade my girlfriend's precious smiles and kiligs for any of those. [Yes guys, this is an awwwww moment]. She got so very close to Piolo that I could swear he noticed her!
Here's a sample of her Piolo shots.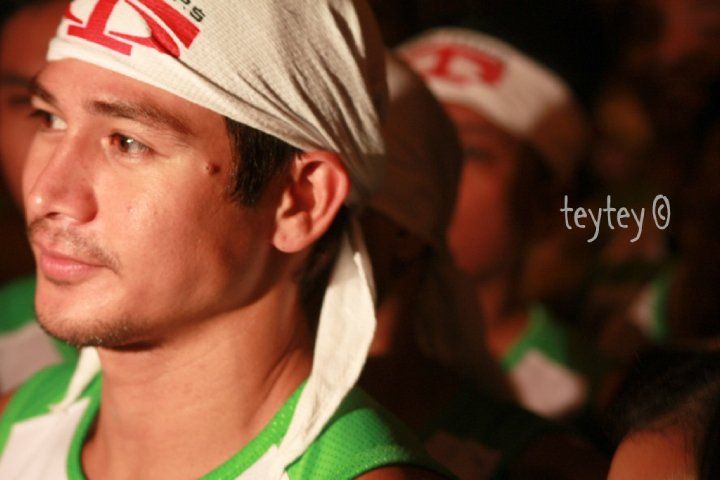 See? She's that close!
Anyway, the run. I was at the front of the starting line because I know Piolo will be there. :P I was with teammates Eugene, Noel, and Geoff. At gun start, my teammates sped away leaving me to my humble pace. Since this is my first 15K [and my longest] I planned to do some sort of an interval training I read from Jinoe (
takbo.ph
) in his HK Marathon : Run 6 mins (me at 6:15) then walk [~9 min/km] 1 min [this interval x ~ 14]. In my computation, this will get me to 15K in 1 hr 38 mins.
That was the plan. But apparently I did not like following my own plans because I did not walk after 6 mins, nor after 13, not even after 20. I was looking at my watch and kept pushing it. "Ok, I'll start walking at 30." "I'll walk at the next water station." "Nah, I'll keep this up only until I reach Roxas boulevard."
So I just went on with my slow pace of 6:30, enjoying the sight of every building I see as if it was my first time seeing them. I never imagined myself being so excited passing by the MOA Globe, seeing HK Sun Plaza and Bangko Sentral, and traversing Roxas boulevard slowly.
I continued on and I think I smiled at every volunteer (I think I was smiling the whole time). At around 51 minutes, I saw Eugene already on his way back. Then came Noel at 52. At 53, I saw Patrick "
Running Shield
" Concepcion and made a mental note that I would get his autograph. :P And at 55, there was Geoff coming with a smile on his face and two necklaces around his neck. I was more than 20 minutes behind them.
At 1 hr 13, I finally decided to walk because I'm already at 11K and what comes next are the distances that I have not yet run ever. I walked for 2 minutes then went on to finish 24 minutes later.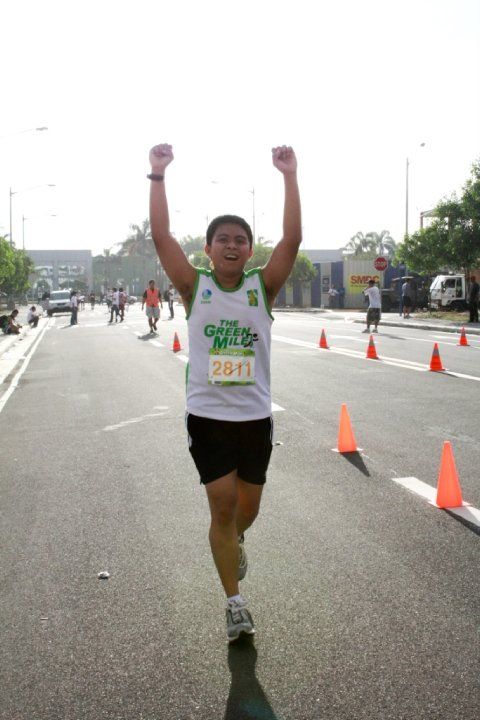 The hardest part of the race? It was when I tried to eat energy beans! I brought some because 15k was long for me. As advised by Running Shield in the Condura Early Edition Philippine Star, I repacked my beans into small packets. I took one out after the 2nd turn and tried to open it but I couldn't. The beans were so sticky that they do not come out even though I already ripped the plastic. But I was determined to have my beans so I just put the plastic-covered beans in my mouth and (hopefully) filtered out the plastic. :P I did not try that again.
My girlfriend and my teammates were waiting for me at the finishline. Since my teammates were a good 20 minutes ahead of me, they already look fresh in this picture. :P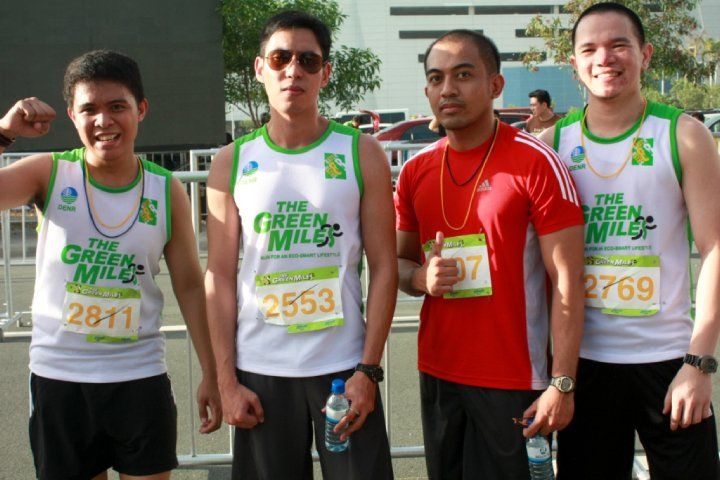 [L-R: Me, Noel Camarillo, Eugene Yasay, Geoff Factor]
It was a pretty good run. It's not as big time as my last 3 races but I enjoyed every minute of it. Every single step was a new discovery for me.
Let me share some other shots by Tey (my girlfriend :D) for Early Runs.
Here's me with Patrick "
Running Shield
" Concepcion and Geoff (Man, I forgot the autograph!).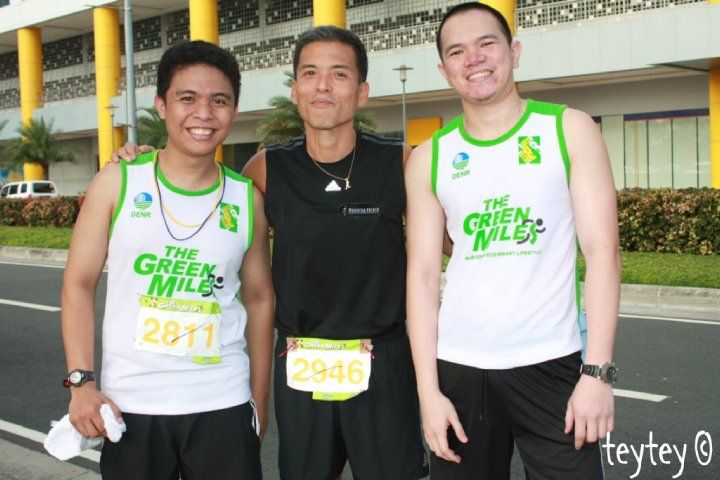 Of course, other Piolo shots by my girlfriend.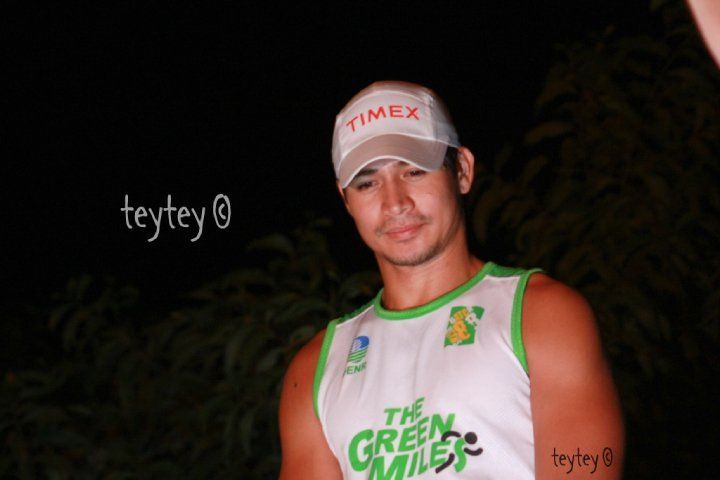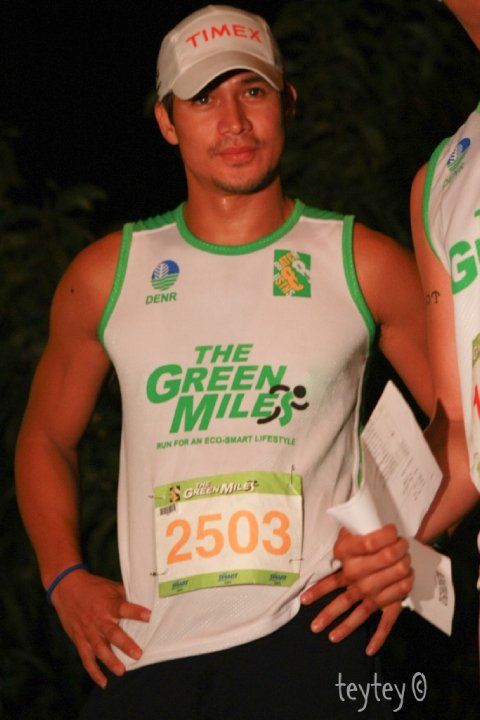 The eOMS Running Team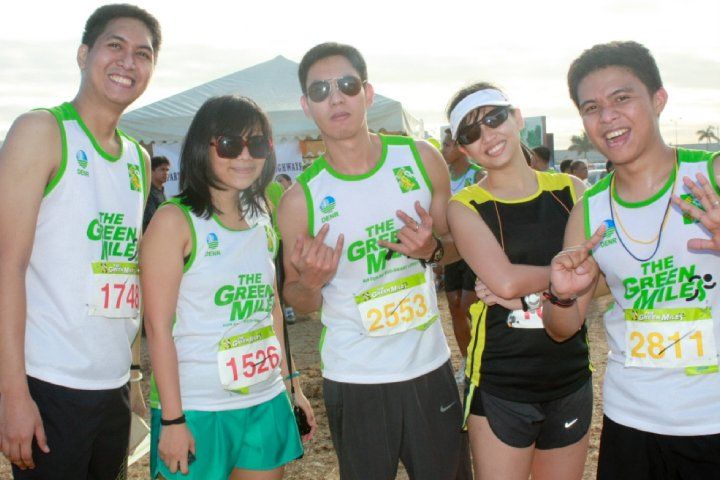 [L-R: Patrick Carpio, Kristine Millano, Noel Camarillo, Chrissie Lim, me]
Run Early Run!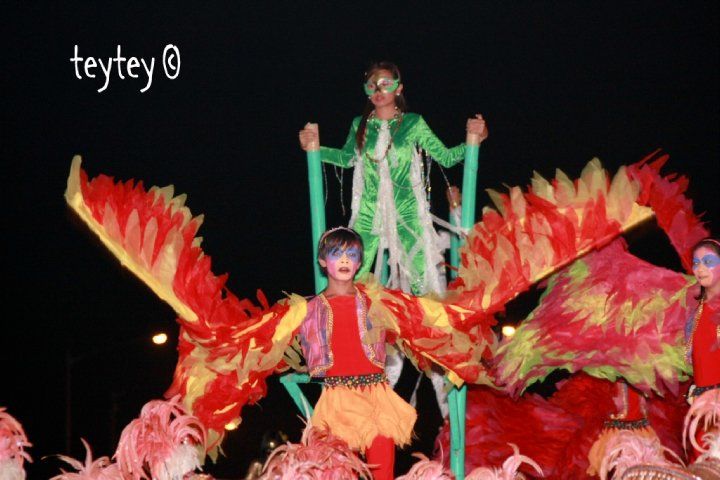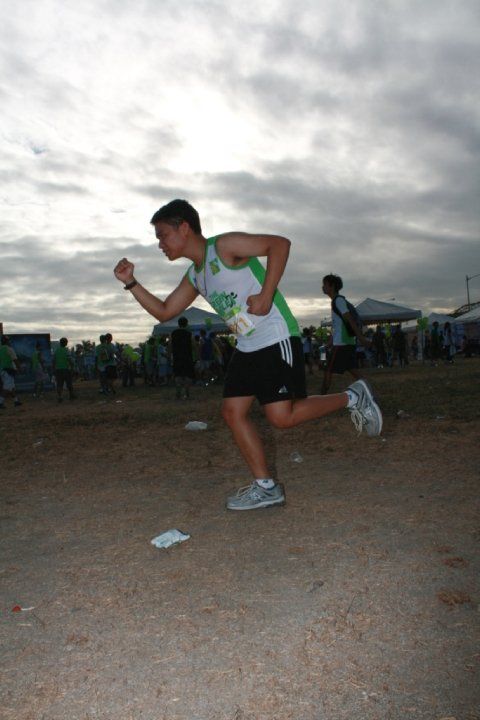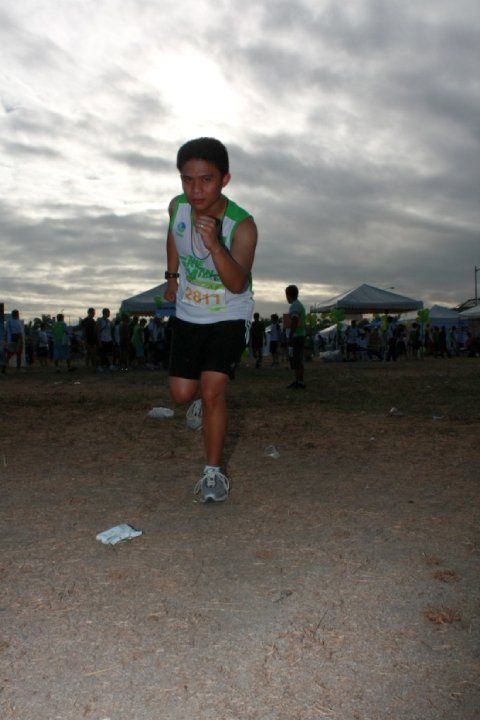 and last but not the least... The Superposition!